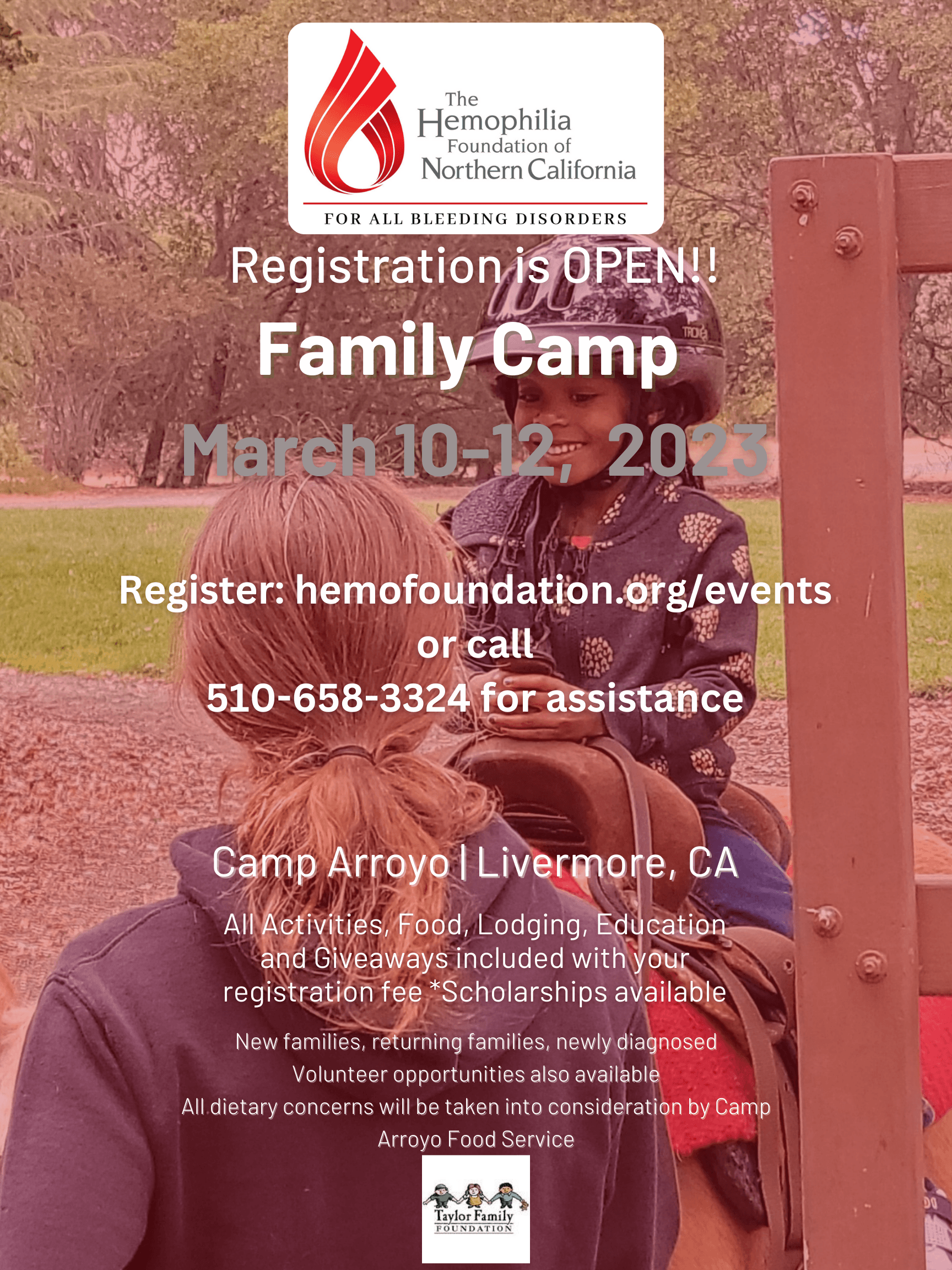 HFNC's Family Camp for families affected by bleeding disorders is not to be missed! Families spend the weekend with other families, HFNC staff, volunteers and Medical Staff from local Hemophilia Treatment Centers where they learn about bleeding disorders care, infusions (there's medical staff to guide you) and more! Families will dine family style, bunk in camp style cabins with other families and enjoy the gorgeous landscape of Camp Arroyo.
Family Camp cost is $25 per person for the weekend (including small children). We are keeping the per-person fee as low as possible to encourage all members of the HFNC bleeding disorder community to participate. This helps with the cost of putting on the program. If this fee is a barrier to you please call 510-658-3324.
¡No se puede perder el campamento familiar de HFNC para familias afectadas por trastornos hemorrágicos! Las familias pasan el fin de semana con otras familias, el personal de HFNC, los voluntarios y el personal médico de los centros locales de tratamiento de la hemofilia, donde aprenden sobre la atención de los trastornos hemorrágicos, las infusiones (hay personal médico para guiarlo) y mucho más. Las familias cenarán al estilo familiar, dormirán en cabañas estilo campamento con otras familias y disfrutarán del hermoso paisaje de Camp Arroyo.
El costo del campamento familiar es de $25 por persona durante el fin de semana (incluidos los niños pequeños). Estamos manteniendo la tarifa por persona lo más baja posible para alentar a todos los miembros de la comunidad de trastornos hemorrágicos HFNC a participar. Esto ayuda con el costo de poner en marcha el programa. Si esta tarifa es una barrera para usted, llame al 510-658-3324.