HFNC Covid-19 Vaccine Statement
HFNC does not provide medical advice and encourages you to consult with your hematologist or primary care doctor regarding all medical decisions. 
March 25, 2021
In May 2020, As HFNC Medical Advisor and Camp Hemotion Medical Director, I made the difficult decision to cancel Camp Hemotion for the summer of 2020 due to the Covid-19 pandemic.  That pandemic still exists and continues to kill people daily. In person Camp Hemotion will not be held until the number of COVID-19 infections in Northern California drops dramatically.  Camp Hemotion 2021 will be held virtually June 13-19.
Three mitigating strategies have been promoted by the CDC, health care providers, virologists, and epidemiologists. These are:
Wear a mask
Wash your hands
Watch your distance, i.e.  keep 6 feet away from others.
The latest mitigating recommendation is to get vaccinated with one of the approved COVID-19 vaccines. Attached is a chart comparing the vaccines. Note they are not approved for children yet.
It is the recommendation of the Northern California Hemophilia Foundation that all members of the bleeding disorders community should be immunized when offered the opportunity. This includes adults, young adults aged 16 +, older counselors, directors, and all infirmary staff planning to attend Camp Hemotion.
CHART ON COVID VACCINES APPROVED IN THE US
These vaccines are approved to be given intramuscular (IM) so there might be a risk of bleeding into the muscle. You should check with your bleeding disorder provider to see if you should take a dose of factor or other clotting agent before receiving the vaccine.  MASAC has issued recommendation #221 regarding this issue.  MASAC RECOMMENDATIONS ON ADMINISTRATION OF VACCINES TO INDIVIDUALS WITH BLEEDING DISORDERS.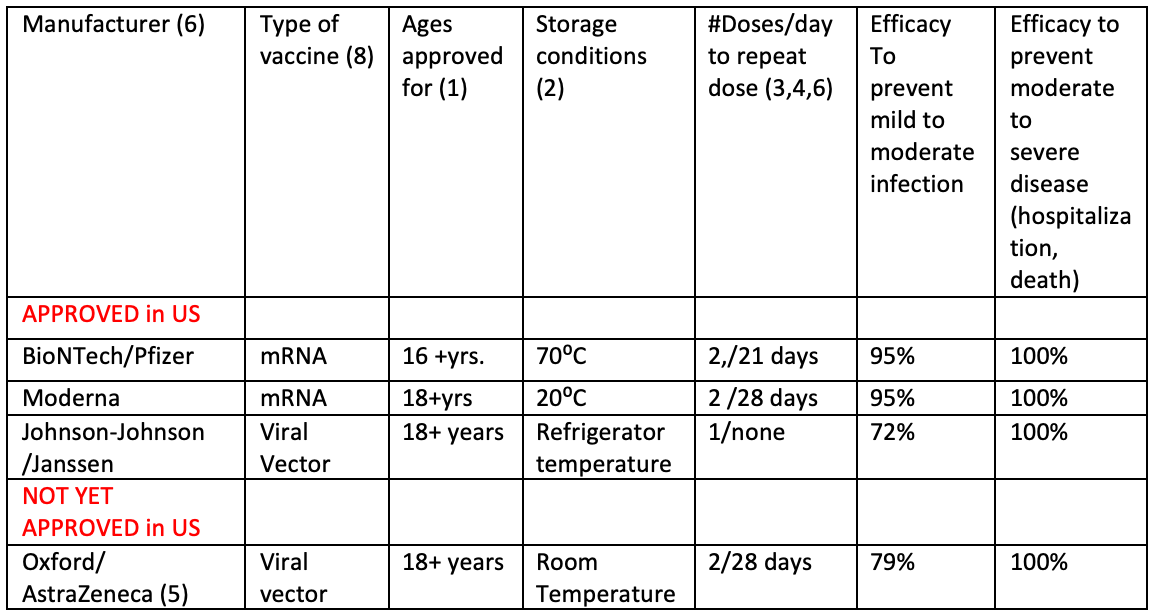 1) NOTE THAT NO VACCINES ARE APPROVED FOR USE IN CHILDREN under 16 years of age YET, BUT STUDIES ARE ONGOING IN THIS AGE GROUP.
2) A LOWER STORAGE TEMPERATURE MEANS THAT PHYSICIANS' OFFICES AND SMALLER HOSPITALS AND URGENT CARE CLINICS CAN STORE the vaccine IN REGULAR REFRIGERATORS.
3) Full immunity is not achieved until 2-4 weeks after the second "booster" dose is received. In the meantime, one could still be infected with the virus and pass it on to others.  Thus, it is important that people still wear masks and observe social distancing until 4 weeks after they receive their second dose. Persons are still encouraged to wear masks, stay 6 feet apart and wash hands frequently after receiving the vaccine. Transmission is still possible from a vaccinated person to a non-vaccinated person. The vaccinated person may experience little to no symptoms due to immunity, but the non-vaccinated person is susceptible to the full range of symptoms this virus causes.
4) Because the US is behind in the number of people immunized due to supply issues, Dr. Fauci has recommended that everyone get one shot to confer some immunity. When more vaccine is available, clinics and hospitals can start giving the booster dose.
5) Not yet approved in the US, but FDA approval expected soon
6)  SIDE EFFECTS Many people reported sore arms where the injection was given. Other side effects included fatigue, muscle aches, and headache.  These indicate that your immune system is working. Some individuals had anaphylactic allergic reactions of swollen lips and tongue and difficulty speaking and breathing. These symptoms resolved with epinephrine or an EpiPen injection. The type of vaccine given was not reported.
7) There are 2 types of vaccine:
       M (messenger)RNA vaccines—mRNA carries the instructions for how to make the COVID virus's spike protein. mRNA enters the person's cells and instructs them to make the spike protein, which then sticks out from the surface of the cells. The person's immune system recognizes the spike protein as foreign and makes antibodies (like inhibitors) that attach to the spike protein. If the person is infected with COVID, the immune system then uses this antibody to destroy any invading virus cells with spike protein.
       Viral vector vaccines use a harmless virus, AAV, which contains DNA instructions for making the COVID virus spike protein. The AAV virus injects the COVID DNA instructions into the recipient's cells. Those cells make the spike protein which then sticks out of the cell's surfaces. The person's immune system recognizes that the spike protein is foreign and makes an antibody (like an inhibitor) to the spike protein. When the person is infected with COVID, his immune system recognizes the foreign surface spike proteins and releases the antibodies which attach to the spike protein, and the virus is destroyed by the immune system so the person does not get sick.
MUTATIONS
All viruses are subject to mutation. For example, the flu virus mutates every year. This is why we have to get a new flu shot every year.
The Corona virus that causes COVID-19 is no exception to this rule. Several different mutations have been found in various parts of the world: UK, Brazil, South Africa, and now California and New York.
Several companies, including Pfizer and Moderna, are conducting tests to see if their vaccine conveys immunity to the new variants. In the future, they will develop booster vaccines that will neutralize the variants. Thus, like the flu vaccine, we may need a new Coronavirus shot each year.
As conditions change, HFNC will review, revise and update this recommendation
Marion Koerper MD
Medical Advisor, HFNC
Medical Director, HFNC Camp Hemotion
---
References
Recommendation #221 MASAC RECOMMENDATIONS ON ADMINISTRATION OF VACCINES TO INDIVIDUALS WITH BLEEDING DISORDERS.
CDC website: https://www.cdc.gov/coronavirus/2019-ncov/vaccines/