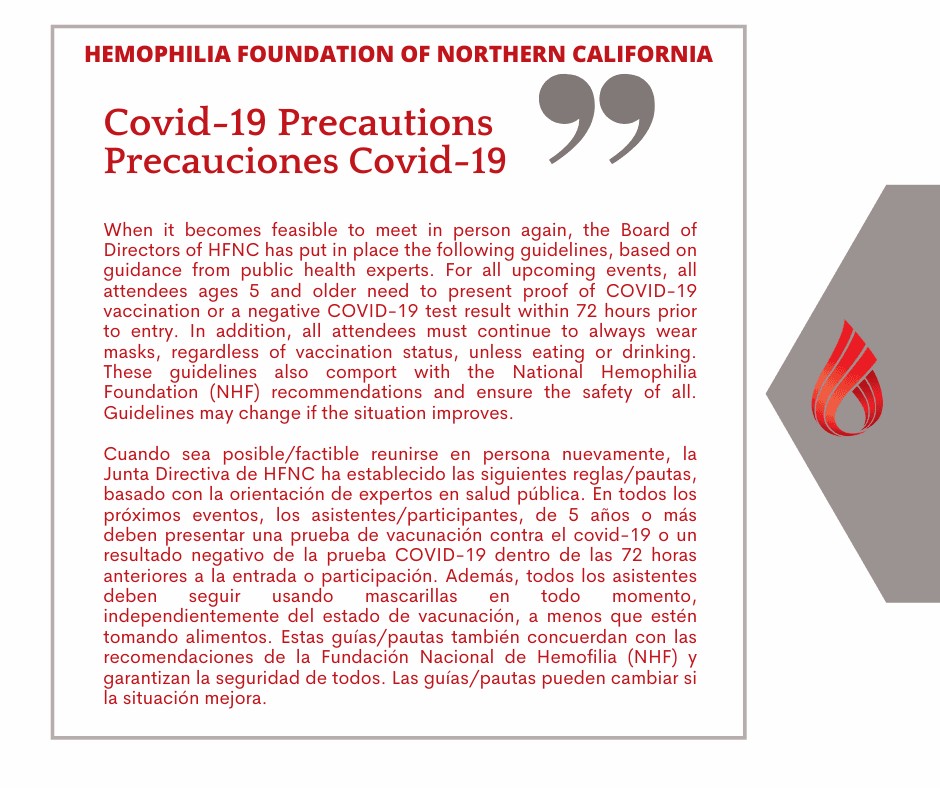 Important Coronavirus (COVID-19) Updates
The Board of Directors of HFNC has put in place the following guidelines, based on guidance from public health experts. For all upcoming events, all attendees ages 5 and older need to present proof of COVID-19 vaccination or a negative COVID-19 test result within 72 hours prior to entry. In addition, all attendees must continue to always wear masks, regardless of vaccination status, unless eating or drinking. These guidelines also comport with the National Hemophilia Foundation (NHF) recommendations and ensure the safety of all. Guidelines may change if the situation improves.
Cuando sea posible/factible reunirse en persona nuevamente, la Junta Directiva de HFNC ha establecido las siguientes reglas/pautas, basado con la orientación de expertos en salud pública.  En todos los próximos eventos, los asistentes/participantes, de 5 años o más deben presentar una prueba de vacunación contra el covid-19 o un resultado negativo de la prueba COVID-19 dentro de las 72 horas anteriores a la entrada o participación. Además, todos los asistentes deben seguir usando mascarillas en todo momento, independientemente del estado de vacunación, a menos que estén tomando alimentos.  Estas guías/pautas también concuerdan con las recomendaciones de la Fundación Nacional de Hemofilia (NHF) y garantizan la seguridad de todos. Las guías/pautas pueden cambiar si la situación mejora.
---
 Camp Hemotion 2022 will be held in person July 31-August 6! 
---
THE CENTER FOR DISEASE CONTROL AND PREVENTION (CDC) HAS RELEASED GUIDANCE FOR PEOPLE WHO ARE FULLY VACCINATED  
READ THE UPDATED GUIDELINES HERE
COVID-19 VACCINATION GUIDANCE FOR PEOPLE WITH BLEEDING DISORDERS
Guidance from the World Federation of Hemophilia (WFH), European Association for Haemophilia and Allied Disorders (EAHAD), European Haemophilia Consortium (EHC), and U.S. National Hemophilia Foundation (NHF). READ GUIDELINES HERE
The National Hemophilia Foundation also published a frequently asked questions article for people with bleeding disorders.  READ THE FAQs FROM NHF
Watch HFNC's COVID-19 & Vaccine Q&A with Dr. Leavitt from UCSF at Family Education Day:
---
The best way to prevent illness is to avoid being exposed to this virus. The virus spreads mainly from person-to-person between people who are in close contact with one another (within about 6 feet). This occurs by respiratory droplets produced when an infected person coughs or sneezes. These droplets can land in the mouths or noses of people who are nearby or possibly be inhaled into the lungs.  Surfaces can also get infected. Older adults and people who have severe underlying medical conditions like hypertension, obesity, heart or lung disease , diabetes or asthma seem to be at higher risk for developing more serious complications from COVID-19 illness. Every person has a role to play. So much of protecting yourself and your family comes down to common sense:
Practice physical distancing – stay 6 feet away from people.

Wear an approved N95 mask or KN95 mask

Wash hands with soap and water for at least 20 seconds.

Avoid touching eyes, nose or mouth.

Cover your cough or sneeze with a tissue or your elbow or a tissue. Wash hands afterwards.

Avoiding close contact with people who are sick.

Stay home and away from people if you become sick with respiratory symptoms like fever and cough.

If you smoke or vape, consider quitting. Smoking and vaping causes harm to the lungs.

Follow guidance from public health officials.

Please consult with your health care provider about additional steps you may be able to take to protect yourself
---
IF YOU THINK YOU MAY HAVE CORONAVIRUS (COVID-19)?
Call ahead to a healthcare professional if you develop a fever and symptoms of respiratory illness, such as cough or difficulty breathing, and have been in close contact with a person known to have COVID-19 or if you live in or have recently traveled to an area with ongoing spread. Tell your healthcare professional about your recent travel or contact. Your healthcare professional will work with your state's public health department and the CDC to determine if you need to be tested for COVID-19. The CDC's website is the best source for information on this subject.
For more great resources and information check out HFA's COVID-19 resource page.
As people are urged by state and local governments and departments of health to self-isolate or quarantine, people who use factor may have questions about their in-home supply.  NHF will be posting all communications from pharmaceutical companies regarding any potential affects that the COVID-19 pandemic could have on the manufacture and distribution of their products. If you have any questions about your particular product, we urge to you contact your physician or your pharmacy provider directly.  Read the statements from pharmaceutical companies.
We encourage you to use the resources at the CALIFORNIA STATE COVID-19 WEBSITE.
---
LAID OFF OR NEED FAMILY LEAVE? 
Check out California's Employment Development Department site for info on how to apply for unemployment, family leave, and disability.  
The outbreak of coronavirus may be stressful for people. Fear and anxiety about a COVID-19 can be overwhelming and cause strong emotions in adults and children. Coping with stress will make you, the people you care about, and your community stronger.  Everyone reacts differently to stressful situations.  How you respond to the outbreak can depend on your background, the things that make you different from other people, and  the community you live in. 
---
VON WILLEBRAND FACTOR AND COVID-19? 
Dr. Valentino, President and CEO of the National Hemophilia Foundation wrote an article on the subject.  
"Recently, there has been considerable interest in the role von Willebrand Factor (VWF) may play in the complications of COVID-19, the infection caused by SARS-CoV-2..." READ THE ENTIRE LETTER
---
Supporting Community Members
HFNC provides $20,000 in emergency financial assistance to community members in need every year. This year, we expect a significant increase in the need for assistance.  We are currently reviewing our program guidelines to ensure assistance is available to community members during this challenging time. 
Several people have asked how they can donate to community members who are struggling during this difficult time. Donations can be made below. All donations go toward supporting bleeding disorder families in need and those who request emergency financial assistance throughout Northern California. Please help us make sure that our family members who need it most are not alone during this tough time.