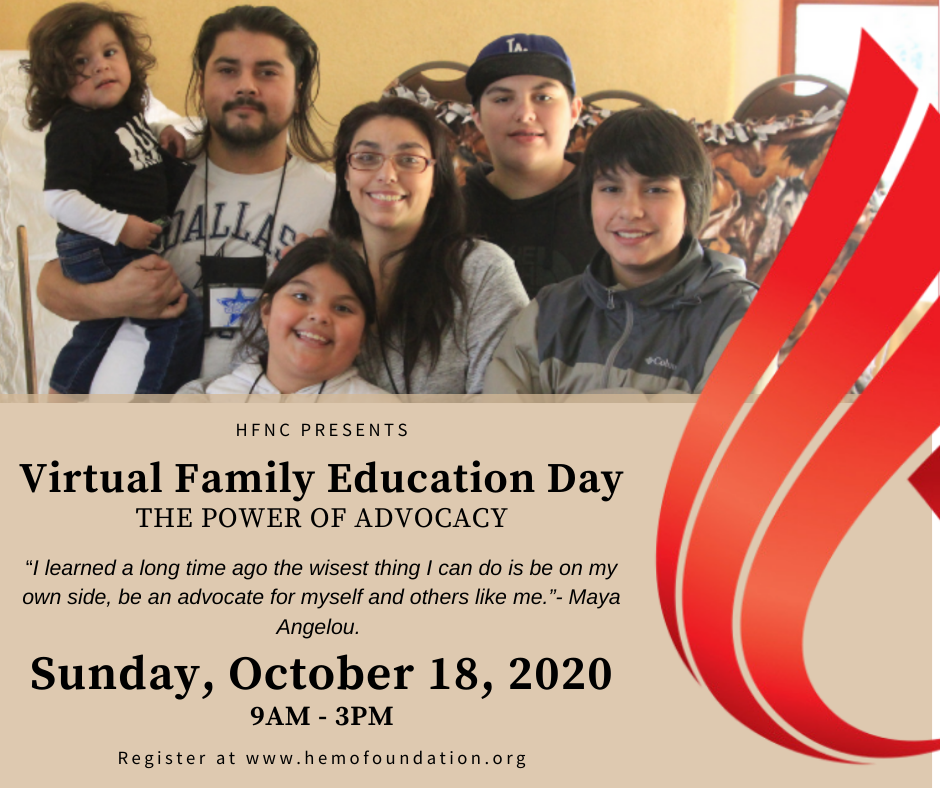 THE POWER OF ADVOCACY
"I learned a long time ago the wisest thing I can do is be on my own side, be an advocate for myself and others like me."- Maya Angelou.
Go here to attend: https://www.hemofoundation.org/fed-2020.html
Attending families can receive a $10 food voucher for each family member ($50 max).  Attending community members will also have an opportunity to enter a drawing for our for Amazon or Walmart gift cards.  
AGENDA
9:00AM VIRTUAL EXHIBITS OPEN
10:00AM VIRTUAL EXHIBITS CLOSE
10:15AM OPENING SESSION
HFNC welcome
Keynote addresses: Bill Robie, Government Affairs, NHF, Shellye Horowitz, HFNC Community Member and Advocate
11:00AM BREAK
11:15AM BREAKOUT SESSIONS
* Self Care for Bleeding Disorders
* Cognitive Conversations for Patients and Caregivers
* Communicating with Providers
* Sharing Your Story: Advocacy for the Bleeding Disorder Community
* Spanish: Sharing Your Story: Advocacy for the Bleeding Disorder Community
12:00PM BREAK
12:15PM VIRTUAL EXHIBITS OPEN & COMMUNITY SESSIONS
* New Families
* Men's Group
* The Female Factor
* Spanish
2:00PM VIRTUAL EXHIBITS CLOSE
2:15PM CLOSING SESSION
Kids Costume Parade
Volunteer Awards
Drawing
3:00PM End