Expecting the Unexpected: Emergencies Happen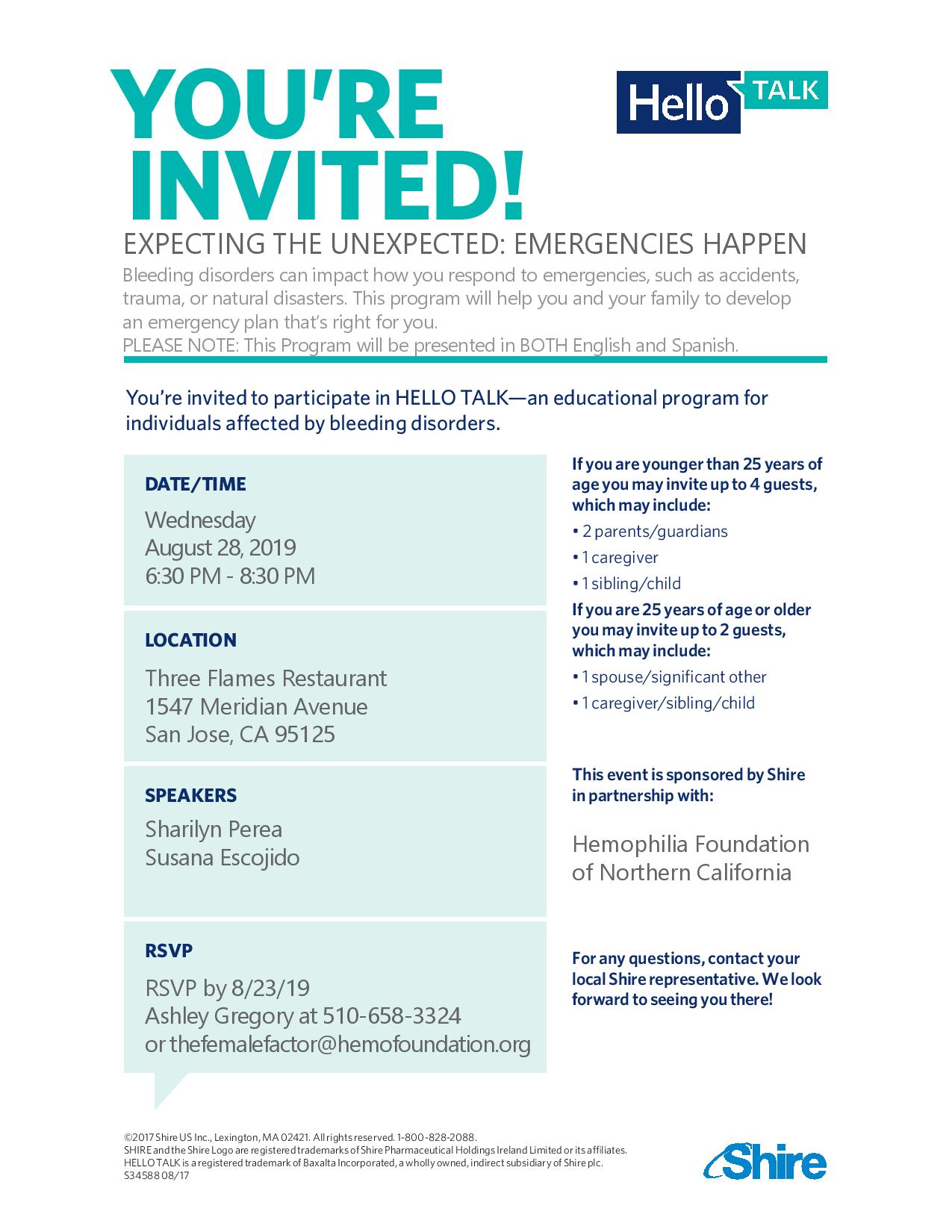 You're invited to participate in HELLO TALK—an educational program for individuals affected by bleeding disorders.
Bleeding Disorders can impact how you respond to emergencies, such as accidents, trauma, or natural disasters. This program will help you and your family to develop an emergency plan that's right for you.
PLEASE NOTE: This Program will be presented in BOTH English and Spanish.
Está invitado a participar en H P, un programa educativo para personas afectadas por condiciones sanguíneas.
CÓMO PREPARARSE PARA LO INESPERADO: LAS EMERGENCIAS SUCEDEN
Los trastornos sanguíneos pueden afectar la manera en la que reaccionas en una situación de emergencia, como accidentes, traumas o catástrofes naturales. Este programa te ayudará a ti y tu familia a desarrollar un plan de emergencia que sea adecuado para ti.
LEASE NOTE: This program will be presented in BOTH English and Spanish.
Our educational dinner program offers the opportunity for our community members to receive additional education about important topics related to their health and wellbeing. Enjoy learning about this interesting topic over a meal provided by Takeda.
HFNC will not share your contact information with the education provider: Takeda. HFNC does not endorse any pharmaceutical product, manufacturer or home care company. Paid advertisements, paid inserts, and educational programs should not be interpreted as a recommendation from HFNC, nor do we accept responsibility for the accuracy of any claims made by paid advertisements, paid inserts, or educational programming. Since we do not engage in the practice of medicine, we always recommend that you consult a physician before pursuing any course of treatment.