The Female Factor Retreat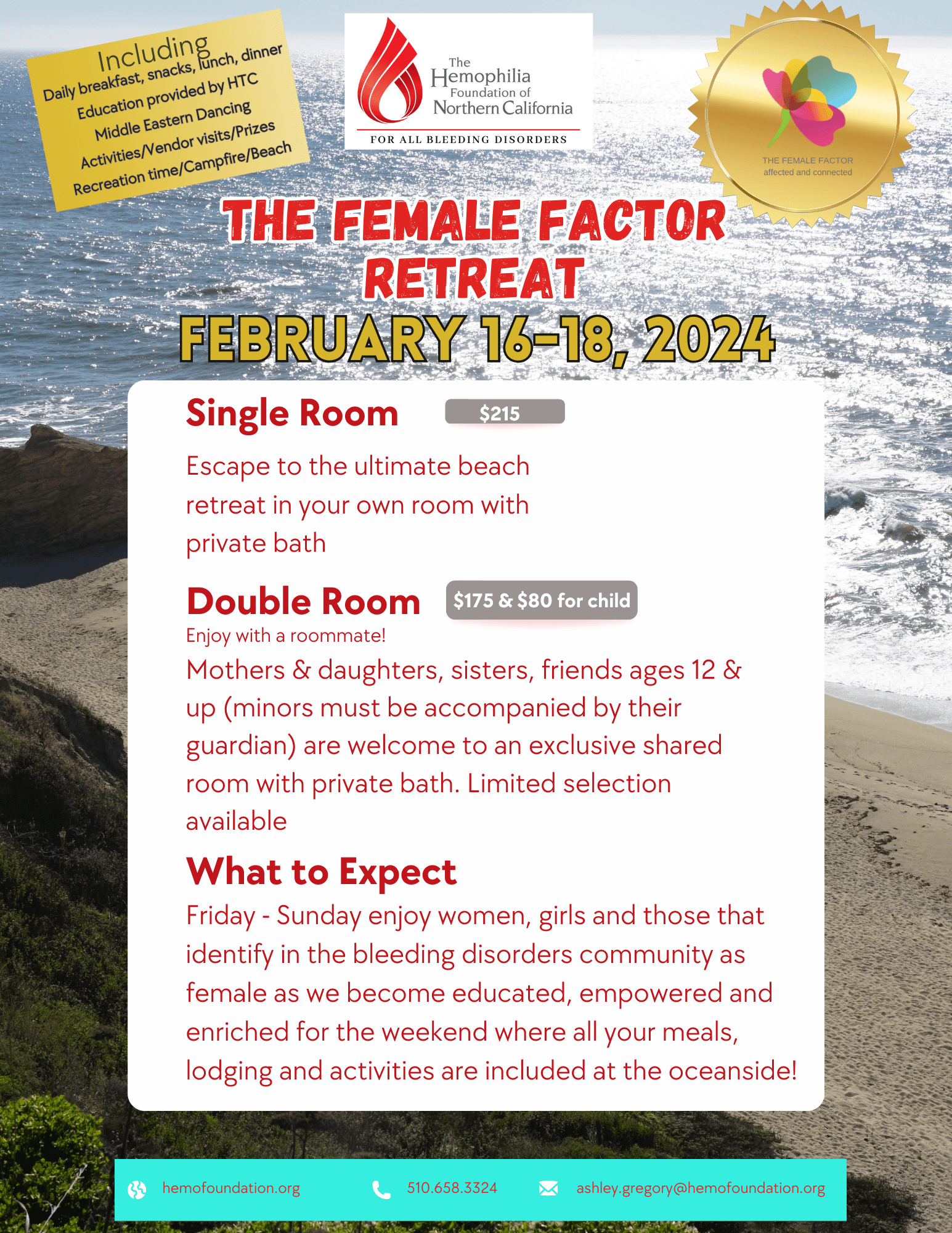 Become educated about bleeding disorders in a retreat setting with women, girls and those assigned female at birth that are in the bleeding disorders community. Our motto is 'Affected and Connected' and all in our community are welcome. Ages 12-18 must be accompanied by a parent/guardian. This is a true retreat space where quiet and introspection are encouraged in a setting located on the cliffs of Santa Cruz, California. There are limited spaces for this boutique event you won't want to miss. Education is provided by our local Hemophilia Treatment Center treatment team. Activities include infusion training, campfire, middle eastern dancing, crafts, teen track and more. Locally sourced, fresh whole organic fare is served. If you have any type of food restriction or allergy, please plan to provide for your meals as they do not accommodate dietary restrictions at this location. We apologize for any inconvenience this may cause but when you see the venue, you will see why we couldn't pass it up. You will hear the waves crashing when you sleep at night. Plenty of parking and time for visiting with others. Sand play is encouraged.
Infórmese sobre los trastornos de la coagulación en un entorno de retiro con mujeres, niñas y mujeres asignadas al nacer que pertenecen a la comunidad de trastornos de la coagulación. Nuestro lema es "Afectados y conectados" y todos en nuestra comunidad son bienvenidos. Los niños de 12 a 18 años deben estar acompañados por un padre/tutor. Este es un verdadero espacio de retiro donde se fomenta la tranquilidad y la introspección en un entorno ubicado en los acantilados de Santa Cruz, California. Hay espacios limitados para este evento boutique que no querrás perderte. La educación la brinda nuestro equipo de tratamiento local del Centro de tratamiento de hemofilia. Las actividades incluyen entrenamiento de infusión, fogatas, bailes del Medio Oriente, manualidades, pista para adolescentes y más. Se sirve comida orgánica integral, fresca y de origen local. Si tiene algún tipo de restricción alimentaria o alergia, planee preparar sus comidas, ya que no se adaptan a restricciones dietéticas en este lugar. Pedimos disculpas por cualquier inconveniente que esto pueda causar, pero cuando veas el lugar, verás por qué no podíamos dejarlo pasar. Oirás las olas rompiendo cuando duermas por la noche. Mucho estacionamiento y tiempo para visitar a otros. Se fomenta el juego en la arena.