The Female Factor Retreat 2022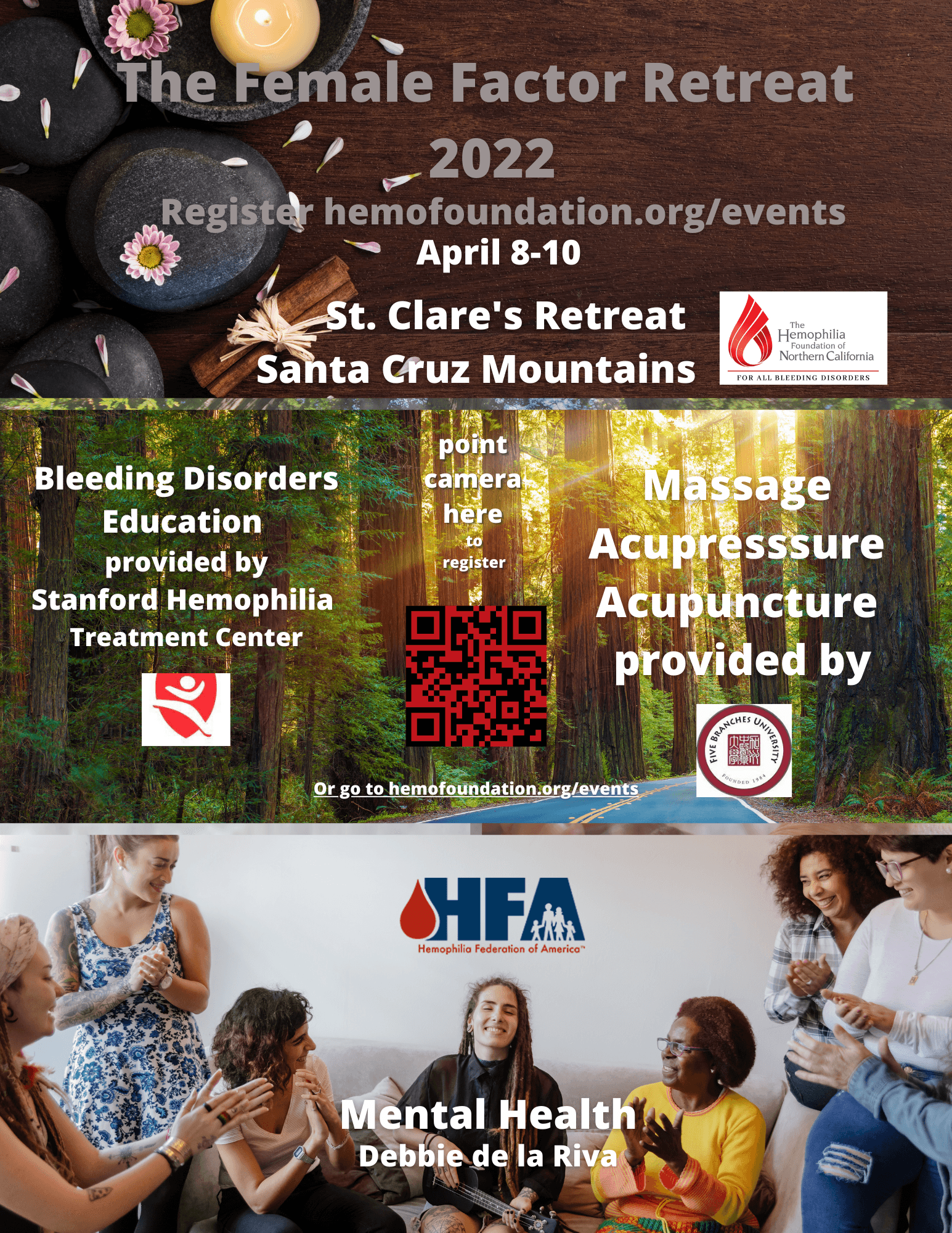 HFNC's The Female Factor 8th Annual Retreat in Northern California is for women affected and connected to the bleeding disorders community. Join us at picturesque St. Clare's Retreat in the Santa Cruz mountains. Enjoy nature, a camp vibe and women who get you as you become educated, empowered and connected at Northern California's bilingual retreat for women/identifying ages 12 & up in the bleeding disorders community. HFNC will be adhering to CDC COVID-19 guidelines. Registration closes March 1, 2022! Hurry, this event fills up fast!! Proof of Covid-19 vaccination or negative test within 48 hours of event start required.
El octavo retiro anual de The Female Factor de HFNC en el norte de California es para mujeres afectadas y conectadas con la comunidad de trastornos hemorrágicos. Únase a nosotros en el pintoresco St. Clare's Retreat en las montañas de Santa Cruz. Disfrute de la naturaleza, un ambiente de campamento y mujeres que lo atrapan a medida que se educa, se empodera y se conecta en el retiro bilingüe para mujeres del norte de California / identificando a las personas de 12 años en adelante en la comunidad de trastornos de la coagulación. HFNC se adherirá a las pautas de COVID-19 de los CDC. HFNC se adherirá a las pautas de COVID-19 de los CDC. ¡La inscripción cierra el 1 de marzo de 2022! ¡¡Apúrate, este evento se llena rápido !!
You will be invited to these virtual booth sessions via Google calendar invitation. Please accept the invitation and join the sessions to visit sponsors in March on Zoom! You only need to visit each sponsor once and there are three different sessions scheduled for your convenience:
Thursday, March 3, 2022 6pm PST
Thursday, March 17, 2022 6pm PST
Thursday, March 31, 2022 6pm PST
*Alternatively, you may schedule individual sessions. Please email ashley.gregory@hemofoundation to schedule your sessions.
This is your virtual passport! Attend these sessions, attend the retreat and qualify for all the raffle, giveaway and other prizes the committee has planned!
Smoking is strictly prohibited on the premises of ST. CLARE'S RETREAT due to our location and high fire danger. Pets are not permitted at ST. CLARE'S RETREAT. Legal service animals, as stipulated by state and federal laws, are allowed. A cleaning fee of $100 is required for each such animal.
Se le invitará a estas sesiones de stand virtual a través de la invitación del calendario de Google. Acepte la invitación y únase a las sesiones para visitar a los patrocinadores en marzo en Zoom. Solo necesita visitar a cada patrocinador una vez y hay tres sesiones diferentes programadas para su conveniencia:
Jueves, 3 de marzo de 2022 6 p.m.PST
Jueves, 17 de marzo de 2022 6 p.m.PST
Jueves, 31 de marzo de 2022 6 p.m. PST
* Alternativamente, puede programar sesiones individuales. Envíe un correo electrónico a ashley.gregory@hemofoundation para programar sus sesiones.
¡Este es tu pasaporte virtual! ¡Asista a estas sesiones, asista al retiro y califique para todas las rifas, sorteos y otros premios que el comité ha planeado! Se requiere comprobante de vacunación con Covid-19 o prueba negativa dentro de las 48 horas posteriores al inicio del evento. Está estrictamente prohibido fumar en los locales de ST. EL RETIRO DE CLARE debido a nuestra ubicación y al alto peligro de incendio. No se permiten mascotas en ST. RETIRO DE CLARE. Se permiten animales de servicio legal, según lo estipulado por las leyes estatales y federales. Se requiere una tarifa de limpieza de $ 100 por cada animal.