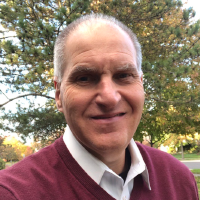 Welcome from Emcee Jorge de la Riva and Keynote from Dr. Len Valentino
Bienvenida del Emcee Jorge de la Riva y Keynote del Dr. Len Valentino
Saturday, July 17  |  9:00am - 9:30am PDT
Sábado, 17 de Julio | 9:00am - 9:30am PDT
Leonard Valentino, MD, President & Chief Executive Officer of the National Hemophilia Foundation
Dr. Len Valentino will share his thoughts on equity within the science of emerging therapies, review current gene therapies, address adverse events, and give a product pipeline overview. 
Leonard Valentino, MD, presidente y director ejecutivo de la Fundación Nacional de Hemofilia
El Dr. Len Valentino compartirá sus pensamientos sobre la equidad dentro de la ciencia de las terapias emergentes, revisará las terapias genéticas actuales, abordará los eventos adversos y brindará una descripción general de la cartera de productos.
Having technical issues with zoom?  Call into the session and use the meeting ID: 8307 866 5008
        +1 669 900 9128 US (San Jose)
        +1 346 248 7799 US (Houston)
        +1 253 215 8782 US (Tacoma)
        +1 312 626 6799 US (Chicago)
        +1 646 558 8656 US (New York)
        +1 301 715 8592 US (Washington DC)
Find your local number: https://us02web.zoom.us/u/kcgMX6H3vN
---
For over three decades I treated families with bleeding disorders, working towards finding better treatments for patients and preventing complications of their disorders through education, advocacy, and research. My work was most gratifying when I could help someone realize his or her full potential, living a life not limited by a diagnosis or its complications. Diagnosing and treating boys and girls, men and women, parents, grandparents and family members was fulfilling personally and professionally. Conducting clinical and laboratory research helped me to understand how to develop and elevate treatments to new levels, seeking cures and improving the quality of life for everyone in the bleeding disorders community. I have spent time in the biopharmaceutical industry trying to understand how to bring new therapies to patients globally. My past experiences as a physician, educator, researcher, and an industry partner have all focused on treating patients and their families and have provided me with the experiences and knowledge to take on this challenging role as the President and CEO for the National Hemophilia Foundation, a role I take on behalf of the entire bleeding disorders community and one that I see as the pinnacle of my career – serving you. 
The landscape of the bleeding disorders community is changing and there are challenges ahead. Gene therapy and novel technologies and treatments bring new opportunities, and many questions as well. We will face these challenges together, working jointly to find solutions. Through collaboration with patients, families, chapters, partners, supporters, medical professionals, patient organizations, government agencies, and all stakeholders in the bleeding disorders community, everything is possible. I believe in unity, and my past leadership roles in these areas put us in a unique position to move forward in ways we haven't had the opportunity to do so ever before. To unlock our greatest potential in such an exciting time we must all support each other – this is what will define our success.
This is an exciting time for the bleeding disorders community as research is progressing forward in unimaginable ways, but there is still more to be done. This is why one of my primary objectives will be to increase our funding to support innovative research on new therapies, and then educating stakeholders on these advancements. Advocating on behalf of those impacted by bleeding disorders with our legislators locally and in Washington D.C. for better access, including access to care, to treatment centers, to physicians, and to new treatments will be ever more important.
Durante más de tres décadas, traté a familias con trastornos hemorrágicos, trabajando para encontrar mejores tratamientos para los pacientes y prevenir las complicaciones de sus trastornos a través de la educación, la defensa y la investigación. Mi trabajo fue más gratificante cuando pude ayudar a alguien a realizar todo su potencial, viviendo una vida no limitada por un diagnóstico o sus complicaciones. Diagnosticar y tratar a niños y niñas, hombres y mujeres, padres, abuelos y miembros de la familia fue una satisfacción personal y profesional. La realización de investigaciones clínicas y de laboratorio me ayudó a comprender cómo desarrollar y elevar los tratamientos a nuevos niveles, buscar curas y mejorar la calidad de vida de todos en la comunidad de trastornos hemorrágicos. He pasado un tiempo en la industria biofarmacéutica tratando de comprender cómo llevar nuevas terapias a los pacientes de todo el mundo. Mis experiencias pasadas como médico, educador, investigador y socio de la industria se han centrado en tratar a los pacientes y sus familias y me han proporcionado las experiencias y el conocimiento para asumir este desafiante papel como presidente y director ejecutivo de la Fundación Nacional de Hemofilia. un papel que asumo en nombre de toda la comunidad de trastornos de la coagulación y que veo como el pináculo de mi carrera: servirle.
El panorama de la comunidad de trastornos de la coagulación está cambiando y hay desafíos por delante. La terapia génica y las tecnologías y tratamientos novedosos brindan nuevas oportunidades y también muchas preguntas. Enfrentaremos estos desafíos juntos, trabajando juntos para encontrar soluciones. A través de la colaboración con pacientes, familias, secciones, socios, partidarios, profesionales médicos, organizaciones de pacientes, agencias gubernamentales y todas las partes interesadas en la comunidad de trastornos de la coagulación, todo es posible. Creo en la unidad, y mis roles de liderazgo anteriores en estas áreas nos colocan en una posición única para avanzar de una manera que nunca antes habíamos tenido la oportunidad de hacerlo. Para desbloquear nuestro mayor potencial en un momento tan emocionante, todos debemos apoyarnos unos a otros; esto es lo que definirá nuestro éxito.
Este es un momento emocionante para la comunidad de trastornos de la coagulación, ya que la investigación avanza de maneras inimaginables, pero aún queda mucho por hacer. Es por eso que uno de mis objetivos principales será aumentar nuestra financiación para apoyar la investigación innovadora sobre nuevas terapias y luego educar a las partes interesadas sobre estos avances. Abogar en nombre de las personas afectadas por trastornos hemorrágicos con nuestros legisladores a nivel local y en Washington D.C. para un mejor acceso, incluido el acceso a la atención, a los centros de tratamiento, a los médicos y a los nuevos tratamientos, será cada vez más importante.